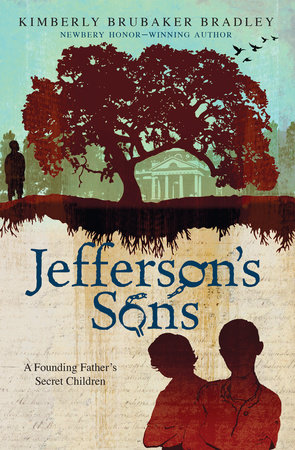 – follow me on Instagram + Goodreads – 
In true Aleigh fashion, I read one book by an author and then I must read every other book written by them! After finishing The War That Saved My Life series, I discovered Jefferson's Sons by Kimberly Brubaker Bradley.
Jefferson's Sons is the untold story of Thomas Jefferson's children born to his slave, Sally Hemings. Told in different perspectives between his children, Beverly, Harriet, Madison and Eston, we follow their lives as young children living under Jefferson's ownership. Like most of his slaves, Sally Heming's children must do daily work and wait on the white people that live on the property, but because they are descendants of Jefferson, the children get more clothes to wear, more food to eat, and better working opportunities than his other slaves.
Despite Jefferson's special treatment of his "secret" children and although their mother, Sally, is in love with him, Jefferson is still a slave owner who orders slaves to be beaten, sold and taken from their families. Through this story we watch his children struggle with wanting his approval as a father and hating him despite his efforts with slavery. We also watch them struggle with their own race and identity; because Sally is half white and half black and Jefferson is a white man, the children are lighter skinned than other slaves owned by Jefferson. By law, they are black since they were born into slavery but once they are free from slavery, they must decide if they will live their lives as white men with a secret past or stay loyal to their family and its history.
In a sad yet interesting story about Thomas Jefferson and his secret slave children, Jefferson's Sons shows us what it's like to struggle with personal identity and what slavery looked like to children born into secrecy. I was expecting to learn more about Thomas Jefferson himself, but this book focused solely on his children to Sally Hemings. The author does note at the end of the book that the events and timeline of the children were accurately based on historical documents, but she can only speculate how they felt about their circumstances.
I enjoyed this book and loved reading it through the children's perspectives. Personally, I loved the series of Ada much more, but I do believe this is just as an important read – especially for the younger generation.