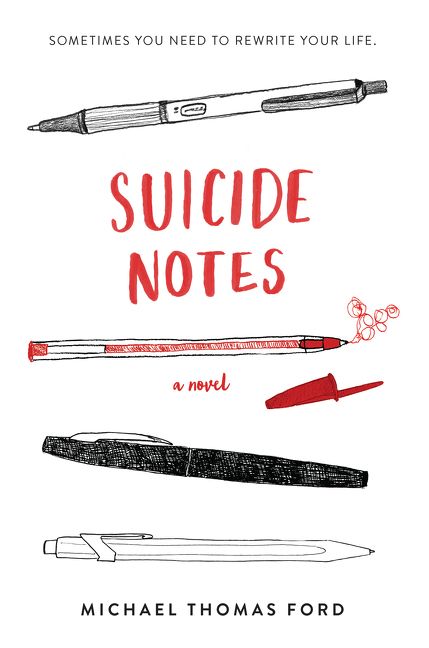 If you've been following my blog for some time, you'd know that I typically only review/recommend books that are 4/5 stars and are stories that have truly impacted me in some way. However, I am breaking my own rule and am reviewing a 3 star book – Suicide Notes by Michael Thomas Ford. I know what you're thinking – why would you even pick up a book titled "Suicide Notes"? I will admit, I felt sightly self conscious about pulling this book out while on my train commute to work, ha! If you noticed the cover art and thought to yourself, "that looks like it's about a teenager who thinks they've got it all figured out in life but they actually don't at all", then you're absolutely correct. While Suicide Notes wasn't the most influential book I've ever read and didn't move me to tears, I still think it's worthy of a review. Here's why.
Fifteen year old Jeff awakens on New Years Day to find himself in the "psych ward". Confused and irritable and demanding to understand what happened to land in such a place, Jeff makes it his mission to prove to everyone that there has been a huge mistake; he is not crazy and needs to go home immediately. Jeff quickly learns he has been admitted into a 45 day program that consists of daily one on one therapy sessions, group activity, and self-reflection. Each chapter represents one day in the hospital and as the days pass, Jeff slowly realizes why he is there and understands he may not be as 'perfectly normal' as he preaches.
Without spoiling the entire premise you spend 44 chapters reading through to learn, I'll tell you why I think this book is review-worthy:
This book has your typical silver-lining ending where the main character has a sudden life-changing need to be a better person
It has a happy(ish?) ending
It was a quick read and I liked the structural outline of the book
The writing was fantastic – I truly felt like I was inside the mind of a 15 year old boy stuck in a mental hospital
Real-life issues are so prevalent in this book and conversations around these topics are so necessary in today's society

i.e., suicide, sexual orientation, suicide because of sexual orientation, mental illness, learning to work through emotions, etc.

This story could/should serve as a stepping stone for teens to open up about their struggles and/or perhaps fell less alone
And these are the reasons I didn't care for the book and rated it 3 stars:
Jeff is an asshole – bottom line. I found it extremely hard to like and relate to any of the characters in this book as they were very immature and kind of bratty, therefore I did not develop any sort of emotional connection. This is huge for me, as so many emotional connections I develop rely solely on the characters and the journey I take with them
Because the characters weren't likable (in my opinion), I didn't really care about them. I know that sounds bad, but I was not invested at all. More so, I just wanted to find out the ending and be done with it
There were portions I felt were very insensitive to suicide, the struggles of simply being a teenager, mental illness, and therapy
In a way, the subject was glamorized and masked with humor and immature nicknames
It was just…..ok.
While I know these statements may seem contradictory and confusing to see so many likes/dislikes simultaneously in regards to one book, that is a 3 star book in a nutshell. I didn't love it, I didn't hate it. But I did respect it. And I think no matter how the story is told and by whom, suicide should always be taken seriously and read with compassion and understanding. I think Suicide Notes would be extremely beneficial to teenagers and young adults, regardless if they have a personal connection with the topic – because let's be honest, those years just really sucked.